Castle map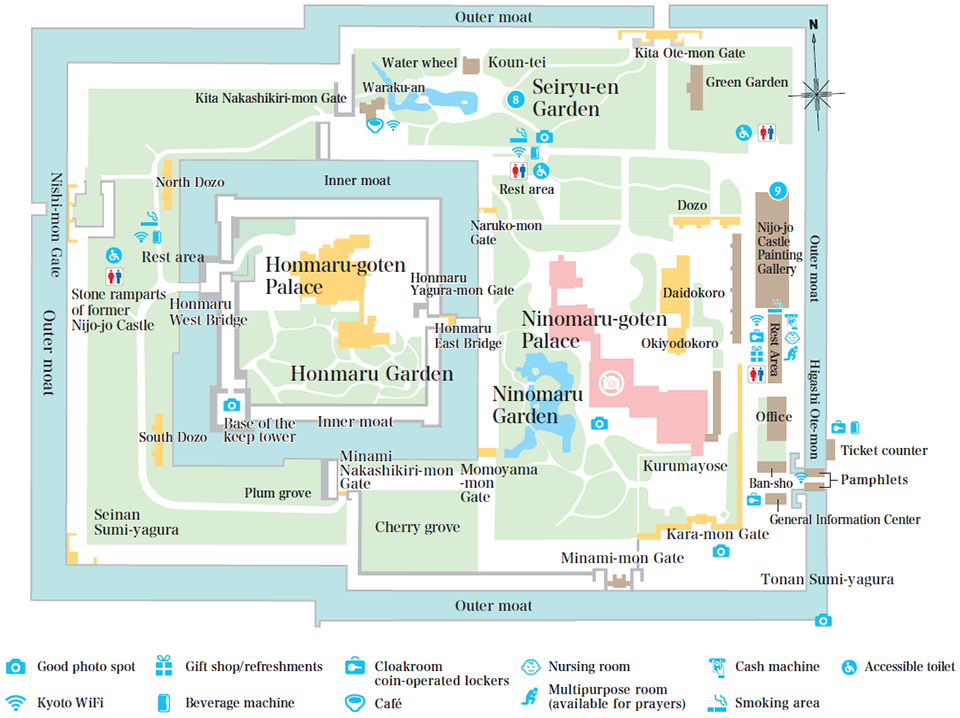 General Information Center
The following visitor services are available at the General Information Center.

Information about Nijo-jo Castle
Acceptance of donations toward the Nijo-jo Castle Owners' Fundraising Campaign
Audio guide rental (fees apply)
Power wheelchair rental(free, on a first-come-first-served basis)
Rest Area
The following visitor services are available at the Rest Area. The lecture room is available for picnics. Seats cannot be reserved.
Shop (souvenirs, original merchandise, commemorative admission tickets)
Café
Cloakroom and coin-operated lockers
Nursing room
Multipurpose room (available for prayers)
Sale of commemorative admission tickets
"Top 100 Castles of Japan" rubber stamp
Cash machine

Waraku-an Sabo
The teahouse Waraku-an is a historically important building. It is built from parts of the 300-year-old former Suminokura Ryoi residence moved from Takasegawa Ichiofunairi (an address in Kyoto), and garden stones from the same mansion. The teahouse is set in Seiryu-en Garden, which combines traditional Japanese and Western aspects of garden design. Sabo Maeda serves matcha and sencha green teas with sweets at Waraku-an, offering visitors tea breaks in historic surroundings.

Wheelchair rental
The gravel-laid castle grounds may be easier to negotiate with power wheelchairs, which are available to rent from the General Information Center. Indoor wheelchairs are available at Ninomaru-goten Palace. Please ask a member of staff (available on a first-come-first-served basis. We do not take reservations).
Cloakrooms and coin-operated lockers
Strollers, suitcases and other items of baggage can be checked into the cloakrooms or coin-operated lockers to explore the huge castle grounds in comfort.
Cloakrooms
*For strollers, suitcases, and other bulky items
Next to the General Information Center

The Rest Area
300 yen per item
Coin-operated lockers
Next to Higashi Ote-mon ticket counter
(outside the gate)
Rest Area
(inside the gate)
Large
700 yen
500 yen
Medium
500 yen
300 yen
Small
300 yen
200 yen
Kyoto WiFi
Free WiFi provided by Kyoto WiFi is available near the Higashi Ote-mon Gate, Rest Area, Seiryu-en Garden Rest Area, Waraku-an, and West Bridge Rest Area.