1. Official Nijo-jo Castle English Guided Tour
Nijo-jo Castle offers guided tours every day that the castle/palace is open, in order to acquaint visitors with the castle's history, cultural treasures, and associated historical figures. The tours are conducted by Kyoto City-certified interpreter guides (City of Kyoto Visitors Hosts). The guided tour route includes an area of the castle closed off to the general public, and is a good way of thoroughly appreciating history, art, architecture, and beautiful garden design.
Review
<20s Woman>
We had an awesome tour guide! She was very knowledgeable and started by giving us background on general Japanese history and power structure. As we walked the castle we learned about physical attributes of the castle as well as 400+ years of related history. She was very patient and welcoming with our questions. We got so much more out of the experience I'm sure, compared to walking the grounds and reading signage on our own.
<30s Male>
Awesome Tour!
It was an awesome tour with a great guide. The interior of Nijo-jo castle was stunning. Having a knowledgeable guide tell you the history was really helpful in understanding what we were seeing, I would highly recommend the tour.
<30s Woman>
We knew very little about the history of Kyoto and this tour gave us lots of information to help us understand it more. The castle is beautiful but it makes such a difference to be taken around by someone who can point out all the little things you would never notice yourself and the fasinating reasons behind it all. Our guide was really knowledgeable and answered any extra questions we had.
2. Tours are available daily except when the castle/palace is closed
First tour starts at 10:00am / Second tour starts at 12:00pm(Each tour lasts about 60 minutes.)
3. Tickets
A tour ticket costs 2,500 yen per person, and is required in addition to the admission ticket to the castle grounds and Ninomaru Palace. Castel and Palace tickets are available from the ticket counter. Tour tickets can be purchased online or at the Tour desk jost inside the Castle gate.
4. Tour desk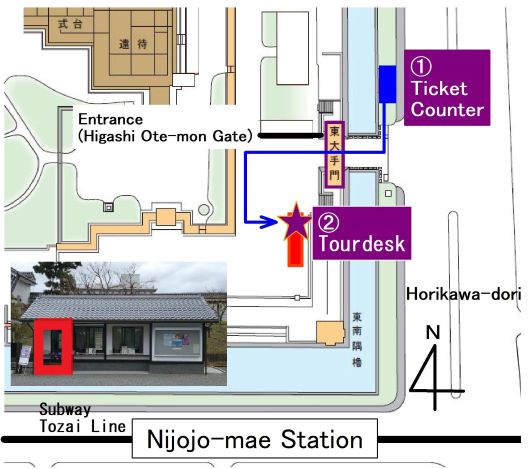 5. Private Tours
Please contact Nijo-jo Official Guided Tour Trustee.
MYK Enterprises, E-MAIL: [email protected]
TEL:075-252-6636(Hours: 9:00AM-6:00PM, Monday to Friday)
※The Official Guided Tour has been partially changed since June 1, 2019.